How Bazif Industries Cut 50% Of The Costs And Grew Their Business
Bazif Industries
Bazif Industries is a manufacturer & exporter of a complete range of motorbike leather garments, textile garments, leather fashion garments, and accessories.
Skip to the results
Challenges
Bazif Industries, and many companies in the textile industry, have been paying middlemen for years to obtain more visibility and sales. Wanting to save up money on commissions that they were paying to middlemen and to get more business for less, Bazif Industries switched over to Foursource intending to reduce the company's costs.
Finding & Using Foursource
Originally, Bazif Industries found customers and kept their business mainly through trade shows and other platforms. As a result of an advertisement, while searching for leather products as well as apparel garments, they found Foursource and decided to join the platform. The company wanted to grow their online business, but at the same time minimize their costs and improve efficiency, whilst exploring new markets and meeting potential new buyers.

The Business Opportunity feature is what Bazif Industries uses the most. Mr Rizwan, Co-Owner of Bazif Industries, thinks that being a Premium member of the Foursource network can be lucrative. Not only does it give you access to messages to buyers who may be interested in your products, but it also enables you to have unlimited and priority access to reply to requests for quotation. After getting in touch with a buyer in the Netherlands, the company received an order for t-shirts and shorts. As a Premium member of Foursource, the company has saved 50% of time and money in their resources and budget.
The Results
Saved 50% of expenses since joining Foursource
Closed a deal with a new buyer from The Netherlands
New business with approximately order value of 3500 EUR
Favorite Features
Best feature:
Business Opportunities

Best thing about Foursource:
"I prefer Foursource because I have an opportunity to reply to unlimited RFQs"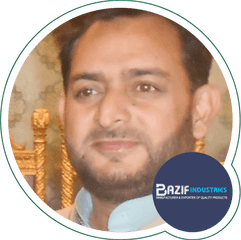 The Business opportunity feature is the one I use the most. Being a paid member, I can send direct messages to buyers when they are looking for products.
Muhammad Rizwan
Co-Owner of Bazif Industries