A Successful Outcome For A Very Reasonable Cost
How upgrading to a Growth membership surpassed business expectations
Campro Sports Gear
Campro Sports Gear specializes in the manufacture of fitness & sports apparel based in Pakistan. At Campro, they strongly believe the traditional roles of 'suppliers' or 'vendors' is evolving every day due to the technological advancements that are making geographical distances insignificant. The 'suppliers' must convert themselves into 'partners' and play an active role in all the departments of their clients, not just their supply chains. Their mission statement revolves around this vision, which is 'to provide smart outsourcing' and has led to Campro being one of the fastest-growing companies in its field.
Skip to the results
Challenges
Finding new customers during the hard period of the pandemic was extremely challenging for Campro Sports Gear. The company's CEO stated that Foursource helped them surpass the business expectations during the difficulty the world went through.
Finding Foursource
Campro Sports Gear found Foursource in 2020 during the pandemic period, and they couldn't be more satisfied with it. The company achieved successful results within the first three months of upgrading to a Growth membership and even saved money on marketing and trade show costs. Since the beginning, Campro Sports Gear has successfully met new potential clients, and orders in a total of 10,000 pieces have been placed. The company's CEO highlights Foursource's team professionalism and the platform's security.
The Results
3 new international customers in Denmark, the USA, and Ireland
20K EUR order value
more than 1000 pieces for garments/li>
more than 9000 pieces for masks
saved around 5K EUR on marketing and trade shows costs
Favorite Features
Best feature:
Showrooms and Business Opportunities

Best thing about Foursource:
"Campro Sports Gear likes the marketing of our platform, which they think they are getting at a very reasonable price."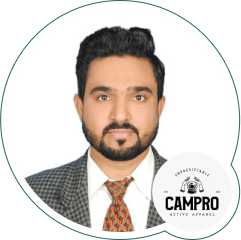 I like the Business Opportunity feature because it gives us the insight of buyers like what they are searching for.
Ansar Bashir
CEO