How Con.Fi Fashion Service Used Foursource To Expand Into New Markets And Gain New Customers
Con.Fi Fashion Service
Meet Con.Fi Fashion Service, a family owned, small-medium apparel manufacturer located near to Venice, Italy. With nearly 40 years of experience, Con.Fi Fashion Service are manufacturers of Men and Women's wear including Jackets & Coats, Dresses, Suits, Trousers, Denim and Medical Wear.
Skip to the results
Challenges & Objectives
Before Foursource, Con.Fi Fashion Service worked with Italian companies only. They noticed diminishing number of orders from the domestic market and decided to expand their customer portfolio outside of Italy. While searching for ways to penetrate the international market, Giulio Zecchinato, Junior Process Manager and son of the business owners, found Foursource.
Finding Foursource
Con.Fi Fashion Service had only used very traditional methods to find new customers, and had no experience using agencies or online platform. When they discovered Foursource in December 2019, they initially signed up with our free Basic Membership.

Con.Fi Fashion Service upgraded to a Professional Membership plan in the middle of January 2020, and following the guidance of the Foursource Customer Success team, they took the opportunity to create a strong showroom by taking new professional pictures of their products. Within the first month they found their first new customer on Foursource!
Expanding into new markets
The Results
Through responding to Requests for Quotations Con.Fi could easily determine potential customers that fit their family business and for Con.Fi Fashion Service the results are really in the numbers:
4 new customers who are now all recurring orders
Expanded into 4 new markets: United States, Germany, Switzerland and Australia
ROI of 1,566.67%
Giulio explained to us how they used Foursource to secure this new business. They logged into their company account at least 2x per week and regularly reached out to buyers using their contact requests and quoting on buyers' Requests for Quotations.
Favorite Features
Best feature:
Requests for Quotations

Best thing about Foursource:
"It's so convenient, Foursource is like a supermarket for buyers!"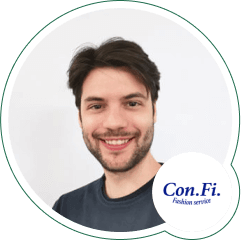 We have increased the number of customers and now we constantly search for new ones by making offers and quotations
Giulio Zecchinato
Junior Process Manager