Women's Dress Supplier Finds The Perfect Buyer Online
Reducing both their costs and carbon emissions in 2021!
Cute Dress Industry
Cute Dress Industry Ltd. is a knitwear manufacturer, located in Dhamrai, Dhaka, Bangladesh. Operates primarily in compliance with Global Organic Textile Standard (GOTS) and Global Recycled Standard (GRS), thereby envisioning Sustainable-Manufacturing Practices. It offers a one-stop solution against conventional product and production methods in a sustainable way. With innovation and technology, Cute Dress guarantees alignment of its vision with the brands who opt for sustainable development, a safer planet and embracement of ethical business practices.
Skip to the results
Challenges & Objectives
Due to Covid-19 restrictions, participating in trade shows was impossible. Previously, Cute Dress had visited around multiple trade shows across different continents. Foursource provided an online alternative for them to still grow their client base.
Finding Foursource
"Foursource has really great potential to connect with new buyers" Sheikh H M Mustafiz explains that they even closed a few orders in the first few months. He especially liked the variety of buyers on the platform with different requirements and different order sizes. Having never used online platforms before, Cute Dress has been overwhelmed with the potential benefits, especially finding new customers, and reducing costs and Co2 emissions without travel, which fits to their production values.
The Results
New business with an approx order value of 40k
Saved approx. 10K USD on travel
Reduced CO2 emissions
Favorite Features
Best feature:
Business Opportunities and RFQs to know what buyers are searching for

Best thing about Foursource:
High response rate when contacting buyers because it's easy to target the right potential customer!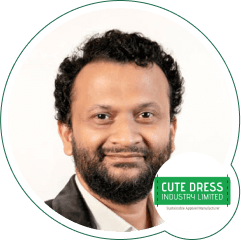 I have never used any platforms before, and I certainly don't want to switch from Foursource - there is so much potential business here!
Sheikh H M Mustafiz
Managing director