Marketing Costs Halved In Under 12 Months!
With Foursource Limton Corporation saved costs on marketing and travelling rather than laying off their employees during a difficult time.
Limton Corporation
Limton Corporation is a family business, founded 40 years ago and now in its 3rd generation of management. Located in the competitive area of Sialkot, Pakistan they focus on Knit wear production mainly for the US and European markets.
Skip to the results
Challenges
The global pandemic changed traditional processes for Limton Corporation. Previously trade shows had been a major part of Limton's marketing strategy to reach European and US buyers. Having seen others laying employees off due to the difficult circumstances, Limton Corporation changed direction to try and avoid this. Furthermore, Limton's experience of finding new customers through buying houses had been quite negative, they especially noticed serious lack of transparency and found it difficult to win buyer's trust.
Finding Foursource
Limton Corporation wanted to look elsewhere than generic sites such as Alibaba, as there is "too many suppliers and unprofessional placement". They decided to use Foursource because of its partnership with the Pakistani association PRGMEA and joined with a Professional membership in June 2020.
The Results
Reduced marketing costs by 50%!
Found new customer's through Foursource Professional website
A full pipeline of strong leads
Foursource helped Limton Corporation win buyers because they trusted the information in their profile thanks to their verified certificates which catered to each potential client.

By switching from physical tradeshows to digital sourcing on Foursource, Limton Corporation saved 50% of their usual marketing costs and won business that they expect to evolve into a large project. Through their Foursource website, which is Google search optimized, they received contact requests even outside the Foursource network and won new business. As well as this, they replied to requests for quotations, with exclusive access to first replies as a Professional member.

And what's more, is they have a full pipeline of strong leads - all from their desk, without packing a single bag!
Favorite Features
Best feature:
Certificate Verification

Best thing about Foursource:
"It's exclusive network with industry professionals only!"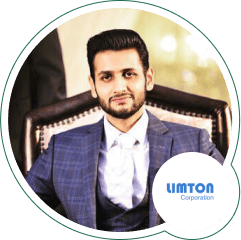 My marketing costs have been cut to half after I've made a profile on Foursource. Since then my company's exposure to various clients has doubled.
Muhammad Adil, Afzal
Marketing Manager