M&S Moda's €200,000 ROI and Strategic Brand Discovery Across Four Countries
-

Istanbul, Turkey
Apparel Manufacturer
51 - 200 Employees
Sportswear, Casual, Workwear, Formal
Enterprise
Since July 2021
Secured orders of 15,000 pieces
of Sportswear, T-shirts, Hoodies, Sweatshirts
Generated €200,000 in revenue
utilizing the Foursource platform
Found 4 valuable brands
in Norway, England, Germany and Canada
M&S Moda
M&S Moda, a clothing manufacturer with a strong emphasis on high-quality and eco-friendly, sustainable practices, was founded in 2009 by Mrs. Selma Schneider, the team leader. Operating as a family-owned company headquartered in Istanbul, their passion lies in textile production, driven by the excitement of crafting inspiring garments. They distinguish themselves as textile engineers and designers, capable of creating, prototyping, and providing expert advice on every aspect of garment production. Their clientele includes renowned European brands, premium labels, fashion icons, lifestyle brands, and major department stores.
Skip to the results
Challenges
With the goal of doubling its client base, M&S Moda has unequivocally affirmed that since becoming part of the Foursource platform, they have experienced its impact in the market doubling. This development has solidified the platform's crucial position in M&S Moda's continued success.
Finding & Using Foursource
M&S Moda shared their journey with Foursource, a platform they discovered thanks to a client's recommendation. The experience has proven to be exceptionally fruitful, leading to significant success. The network opened doors to many new customers, fostering valuable relationships that have resulted in substantial growth for the company. With a commitment to delivering top-notch products to multiple countries, M&S Moda has garnered widespread satisfaction among its clientele. For the company, what sets Foursource apart from other B2B market networks is its transparency and continuous development, making it a vital tool in M&S Moda's expansion strategy.
The Results
Achieved 15,000 pieces in total in orders, €200,000 in revenue via Foursource, and discovered new valuable brands in four countries.
Foursource has significantly reduced the company's reliance on extensive travel, leading to substantial cost savings and enhanced operational efficiency.
The network expanded the client base, doubling the company's customer reach.
Favorite Features
Best feature:
Showrooms

Best thing about Foursource:
"We know that our collection presentations can beeasily displayed on Foursource's feature, digital showrooms. I find it very useful.".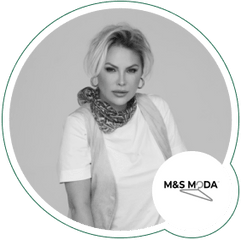 I think that Foursource has brought the digital world to everyone's feet in the textile industry, which is a remarkable achievement. Thanks to Foursource, our need for extensive travel has diminished, resulting in significant cost savings and improved efficiency.
Selma Schneider
Owner