Foursource's Role in Nilyum Tekstil's Daily Operations and Industry Insight
-
About Nilyum Tekstil
Nilyum Textile was established in Istanbul, Turkey in 2011. It has provided numerous textile solutions for more than 10 years to global companies, important brands, schools, chain stores, and entrepreneurs who want to create their brands. The company produces customizable clothes for brands in various product types, specializing in customizable clothing such as t-shirts, sweatshirts, jackets, corporate clothes and school uniforms by combining knowledge, experience and expertise. Nilyum Textile continues to grow and globalize daily with its 1,500 m2 production facility, monthly production capacity of 80,000, and a team of 65 professional people.
Skip to the results
Challenges
Prior to becoming a part of Foursource, the company's primary approach to acquiring new business involved engaging in textile fairs and collaborating with textile agencies. Recognizing the significance of digital transformation in the textile sector and the considerable influence of B2B platforms on textile companies, Nilyum Tekstil opted to incorporate Foursource into its strategy, with the expectation that it would facilitate the exploration of new customer bases and untapped markets.
Finding & Using Foursource
Nilyum Tekstil initially came across Foursource through an online search and was drawn to its website, prompting them to dive into the world of B2B platforms in the textile industry for the very first time. Presently, Foursource has evolved into an integral part of the company's daily operations. Through regular monitoring of the Requests for Quotation feature, the company's owner, Ferah Girişken, remains constantly informed about the industry's changing demands.
The Results
Nilyum Tekstil successfully achieved its primary goal of market expansion by acquiring a new customer in Sweden.
Foursource is now a vital component of Nilyum Tekstil's daily business operations.
By monitoring Requests for Quotation, the company stays up-to-date with dynamic industry demands.
Favorite Features
Best feature:
Requests for Quotation (RFQ)

We are mostly using RFQ section. Every day, we are checking it and proposing our production group".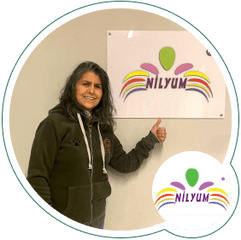 We are happy with the results. Foursource is a useful platform for connecting the buyers and the sellers properly, and it's purpose-built.
Ferah Girişken
Company Owner